Wang Hongwen (王洪文, 1935-1992) was the youngest member of the 'Gang of Four'. Born into a poor peasant family in Changchun, Liaoning Province, he joined the People's Liberation Army when he was still a boy. During the war in Korea, he served as field messenger with the People's Volunteers fighting against the Americans. After demobilization, he worked at the No. 17 Cotton Mill in Shanghai. Wang is depicted in the top left corner of the poster below.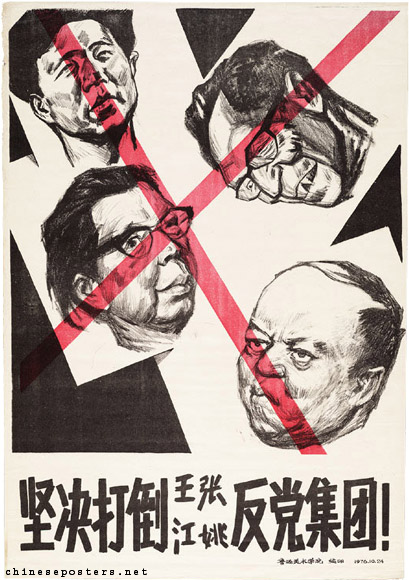 In June 1966, he and six co-workers published a wall poster denouncing the capitalist management of his mill. This poster later received Mao's praise as being "the first significant wall poster of the Cultural Revolution". When he visited Beijing in September of the same year, he accused the Shanghai Party leadership of suppressing rebel groups, and received support of the Cultural Revolution Group headed by Jiang Qing and Chen Boda. During this visit, he was received by Mao and Lin Biao. After his return to Shanghai, he was actively involved in overthrowing the old Party leadership, mainly due to the support of Jiang Qing. In January 1967, he supported Zhang Chunqiao's bid for power. Together, they headed the short-lived Shanghai Commune, which was reorganized into a revolutionary committee on Mao's orders. Wang, Zhang, Jiang Qing and Yao Wenyuan would become known as the Gang of Four.
As vice-chairman of the Shanghai revolutionary committee, Wang started his ascendancy in the ruling elite. He became a member of the 9th Central Committee (1969), secretary of the Shanghai CCP Committee (1971-1976), and member of the 10th Central Committee (1973). In 1973, Wang moreover was made vice-chairman of the PRC. In October 1976, Wang was arrested by Hua Guofeng and Ye Jianying as a member of the Gang of Four and expelled from the Party. After the Gang was arrested, a huge propaganda campaign was launched to discredit them.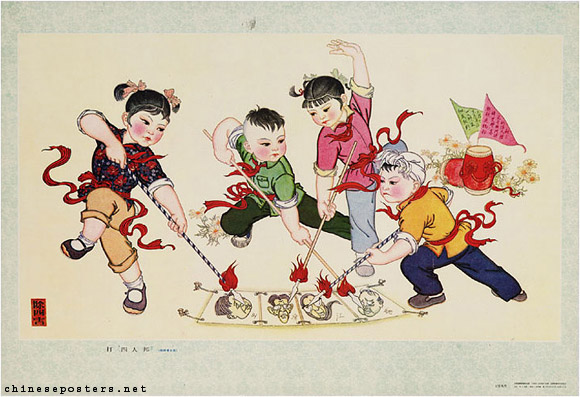 In January 1981, Wang was sentenced to life imprisonment and permanent deprivation of political rights. He was hospitalized for treatment of liver cancer, of which he died in 1992.
A Great Trial in Chinese History - The Trial of the Lin Biao and Jiang Qing Counter-Revolutionary Cliques, Nov. 1980-Jan. 1981 (Peking: New World Press, 1981)
Wolfgang Bartke, Who was Who in the People's Republic of China (München: K.G. Sauer, 1997)
Wolfgang Bartke, Biographical Dictionary and Analysis of China's Party Leadership 1922-1988 (München: K.G. Sauer, 1990)
David Bonavia, Verdict in Peking - The Trial of the Gang of Four (London: Burnett Books, 1984)
Guo Jian, Yongyi Song & Yuan Zhou, Historical Dictionary of the Chinese Cultural Revolution (Lanham: The Scarecrow Press, Inc., 2006)
Yan Jiaqi & Gao Gao (translated & edited by D.W.Y. Kwok), Turbulent Decade - A History of the Cultural Revolution (Honolulu: University of Hawai'i Press, 1996)
Yang Kelin (ed.), Wenhua dageming bowuguan [Museum of the Cultural Revolution] (Hong Kong: Dongfang chubanshe youxian gongsi, Tiandi tushu youxian gongsi, 1995) [in Chinese]