Yao Wenyuan (姚文元, 1931-2005) was born in Zhuji County, Zhejiang Province. As a literary critic, he would become one of the most visible members of the 'Gang of Four', earning the nickname "The Cudgel" for having taken a hard line in all important campaigns. Yao was the son of Yao Benzi, a well-known leftist writer in the 1930s. Following in his father's footsteps, Yao embarked on a career in literature and literary criticism. A member of the Shanghai chapter of the Chinese Writers' Association, he advocated an orthodox literary line that adhered to Mao Zedong Thought, and opposed the more liberal tendency that prevailed in literature atthe time. His writing played an important role in the purge of Hu Feng in 1955. During the "Hundred Flower"-movement, Yao actively participated in the criticism of writers who were seen as 'right deviationists'. At the same time, Yao became a protégé of Zhang Chungqiao. In the poster below, Yao is depicted in the lower right corner.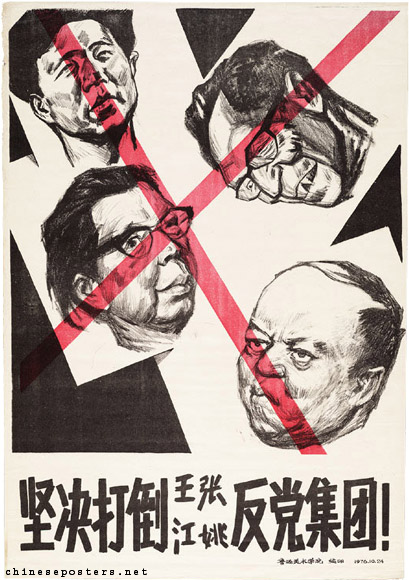 Yao became closely associated with Mao and Jiang Qing when they settled in Shanghai in 1963 as a result of political opposition they encountered in Beijing. He is credited with having fired the opening salvo of the Cultural Revolution with the publication of his article 'Notes on the New Historical Drama Hai Rui Dismissed from Office', which was published in the Wenhui bao 文汇报, and after much resistance reprinted in the People's Daily [人民日报, Renmin ribao] in November 1965. Hai Rui, written by historian and Beijing vice-mayor Wu Han, was an allegory in defense of former Defense Minister Peng Dehuai, who had been dismissed in 1959 because of his criticism of the Great Leap Forward, which was seen as an attack on Mao Zedong.
In October 1966, Yao joined the Cultural Revolution Group, headed by Jiang Qing and Chen Boda, which directed the violent developments in the first half of the Cultural Revolution. Together with Jiang, Wang Hongwen and Zhang Chunqiao, Yao would form what became know as the Gang of Four. Although taking on political functions such as second secretary of the Shanghai Commune (1967) and membership of both the Politburo and Central Committee of the 9th Central Committee (1969), Yao remained active in cultural affairs. When one reads the reports about the instances where Yao accompanied Jiang Qing, one is struck by his toadying. In October 1976, Yao was arrested by Hua Guofeng and Ye Jianying as a member of the Gang of Four and expelled from the Party. After the Gang was arrested, a huge propaganda campaign was launched to discredit them.
At the conclusion of the trial against the Gang of Four in January 1981, Yao received the lightest sentence of all: twenty years imprisonment and deprivation of political rights for five years. Yao, who was released in 1996, was the last Gang-member to die.
A Great Trial in Chinese History - The Trial of the Lin Biao and Jiang Qing Counter-Revolutionary Cliques, Nov. 1980-Jan. 1981 (Peking: New World Press, 1981)
Wolfgang Bartke, Who was Who in the People's Republic of China (München: K.G. Sauer, 1997)
Wolfgang Bartke, Biographical Dictionary and Analysis of China's Party Leadership 1922-1988 (München: K.G. Sauer, 1990)
David Bonavia, Verdict in Peking - The Trial of the Gang of Four (London: Burnett Books, 1984)
Guo Jian, Yongyi Song & Yuan Zhou, Historical Dictionary of the Chinese Cultural Revolution (Lanham: The Scarecrow Press, Inc., 2006)
Helmut Martin, Cult & Canon - The Origins and Development of State Maoism (Armonk: M.E. Sharpe Inc., 1982)
Michael Schoenhals (ed.), China's Cultural Revolution, 1966-1969 - Not A Dinner Party (Armonk: M.E Sharpe, 1996)
Yan Jiaqi & Gao Gao (translated & edited by D.W.Y. Kwok), Turbulent Decade - A History of the Cultural Revolution (Honolulu: University of Hawai'i Press, 1996)
Yang Kelin (ed.), Wenhua dageming bowuguan [Museum of the Cultural Revolution] (Hong Kong: Dongfang chubanshe youxian gongsi, Tiandi tushu youxian gongsi, 1995) [in Chinese]
Yao Wen-yuan, Comments on Tao Chu's Two Books (Peking: Foreign Languages Press, 1968)
Yao Wen-yuan, On the Social Basis of the Lin Piao Anti-Party Clique (Peking: Foreign Languages Press, 1975)