Zhang Chunqiao (张春桥, 1917-2005) was born in Juye County, Shandong Province. He would become one of the most powerful members of the 'Gang of Four'. Zhang joined the Shanghai chapter of the League of Chinese Left-Wing Writers in 1936 and joined the Party around 1940. During the war against Japan, he was a cadre of communist guerrillas operating behind enemy lines in north and east China. After the founding of the PRC, he started his career in literary and propaganda work. He served as deputy director of the East China branch of the New China News Agency (1950), managing director of the PLA Daily [Jiefangjun bao] (1954), member of the Shanghai Party Secretariat (1958) and director of the Propaganda Department of the Shanghai Party branch (1963). Zhang is in the top right corner in the poster below.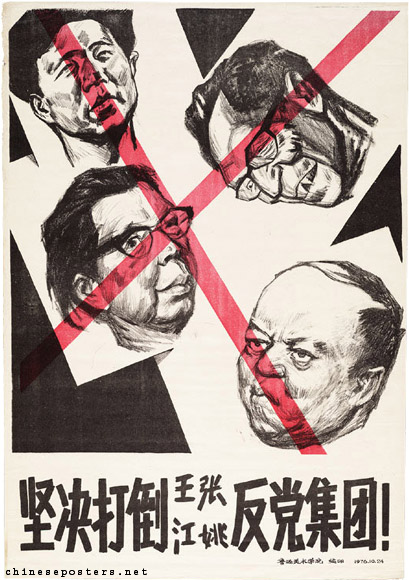 In October 1966, Zhang became deputy head of the Cultural Revolution Group, headed by Jiang Qing and Chen Boda, which directed the violent developments in the first half of the Cultural Revolution. Together with Jiang, Wang Hongwen and Yao Wenyuan, Zhang would form what became know as the Gang of Four. He was one of the initiators of the demonstrations that led to the founding of the Shanghai Commune, of which he was the chairman and Wang Hongwen the second-in-command. The organization was reorganized into a revolutionary committee on Mao's orders, but Zhang remained in charge. In the poster below, the second small photo from the left shows Zhang delivering a speech.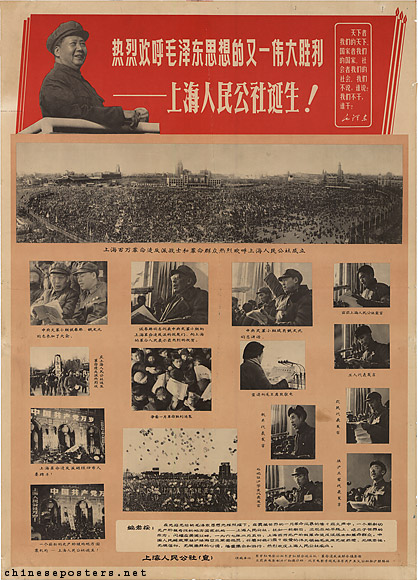 Zhang remained active in various administrative functions in Shanghai, while at the same time carving out a carreer on the national level. He was elected into the Politburo of the 9th Central Committee (1969) and became a member of the Standing Committee of the Politburo of the 10th Central Committee (1973). In 1975, he was appointed vice-premier. In October 1976, Zhang was arrested by Hua Guofeng and Ye Jianying as a member of the Gang of Four and expelled from the Party. After the Gang was arrested, a huge propaganda campaign was launched to discredit them.
During the subsequent trial against the Gang of Four, Zhang did not utter one single word in his defense. He was sentenced to death with a two-year reprieve and permanent deprivation of political rights in January 1981. Two years later, his death sentence was reduced to life imprisonment. Zhang was rumored to have died of cancer in 1991, but his death was anounced officially on 21 April 2005.
A Great Trial in Chinese History - The Trial of the Lin Biao and Jiang Qing Counter-Revolutionary Cliques, Nov. 1980-Jan. 1981 (Peking: New World Press, 1981)
Wolfgang Bartke, Who was Who in the People's Republic of China (München: K.G. Sauer, 1997)
Wolfgang Bartke, Biographical Dictionary and Analysis of China's Party Leadership 1922-1988 (München: K.G. Sauer, 1990)
David Bonavia, Verdict in Peking - The Trial of the Gang of Four (London: Burnett Books, 1984)
Guo Jian, Yongyi Song & Yuan Zhou, Historical Dictionary of the Chinese Cultural Revolution (Lanham: The Scarecrow Press, Inc., 2006)
Helmut Martin, Cult & Canon - The Origins and Development of State Maoism (Armonk: M.E. Sharpe Inc., 1982)
Andrew G. Walder, Chang Ch'un-ch'iao and Shanghai's January Revolution (Ann Arbor: Center for Chinese Studies/The University of Michigan, 1978)
Yan Jiaqi & Gao Gao (translated & edited by D.W.Y. Kwok), Turbulent Decade - A History of the Cultural Revolution (Honolulu: University of Hawai'i Press, 1996)
Yang Kelin (ed.), Wenhua dageming bowuguan [Museum of the Cultural Revolution] (Hong Kong: Dongfang chubanshe youxian gongsi, Tiandi tushu youxian gongsi, 1995) [in Chinese]