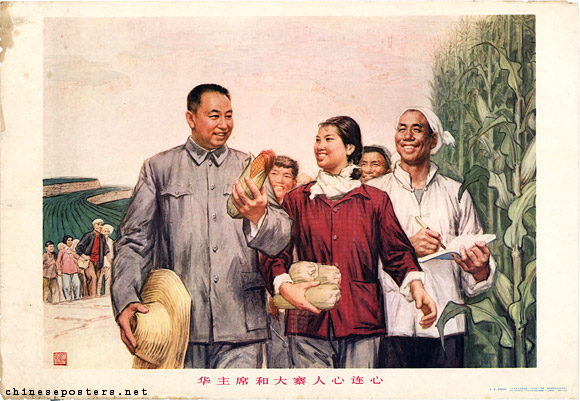 Hua had a special relationship with Dazhai. As opposed to Mao, whose support appeared to have been only verbal and who had never ventured to go to the model commune, various posters to the contrary notwithstanding, Hua actually engaged in on-the-spot investigations. Before he successfully took over power from Mao, he attended a conference in Dazhai in September-October 1975.
In his speech "Mobilize the whole Party, tackle agriculture in a big way and struggle for the popularization of Dazhai County", he called upon the nation to make at least one third of all counties in China to be like Dazhai in 1980, regardless of local conditions. Thus, high-yield grain production would be guaranteed.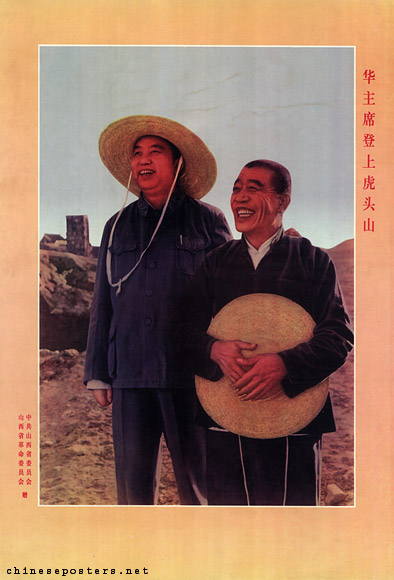 A second conference devoted to Dazhai took place in Beijing in December 1976, some two months after Hua had taken over power and had the Gang of Four arrested. As part of Hua's decision to cling to the policies of his predecessor, Dazhai's example could not be shelved overnight. When Dazhai Party branch secretary Chen Yonggui - Mr. Dazhai, now a member of the Party's Politburo and Vice-Premier - openly supported Hua in his speech and roundly denounced the Gang of Four and their pernicious influence on agriculture, Hua clearly understood that such politically potent support should not be brushed off lightly. As a result, following Dazhai in agriculture and Daqing in industry remained integral parts of Hua's attempts at a reform policy.
Only in 1980, once Deng Xiaoping had taken over from Hua, the example of Dazhai was repudiated as an element of the 'left-deviationist line' that had held sway over China during the Cultural Revolution. Chen Yonggui was held responsible as the main culprit.
Tachai - Pacesetter in China's Agriculture (Peking: Foreign Languages Press 1978)
Kwok-sing Li (editor) & Mary Lok (translator), A Glossary of Political Terms of the People's Republic of China (Hong Kong: The Chinese University Press 1995)
Wen Yin & Liang Hua, Tachai - The Red Banner (Peking: Foreign Languages Press 1977)
Xiyang County Geography of Dazhai Writing and Editorial Group, Geography of Dazhai (Peking: Shangwu yinshuguan 1975) [in Chinese]