Luo Shengjiao (罗盛教, 1931-1952), born in Songshan Village, Xinhua district, Hunan Province, was a model who exemplified the Chinese People's Volunteer Army's humanitarian actions in the Korean War. In January 1952, Luo drowned while saving Cui Ying, a Korean boy who had slipped under the ice covering a lake. Luo's padded winter uniform dragged him down in the icy waters.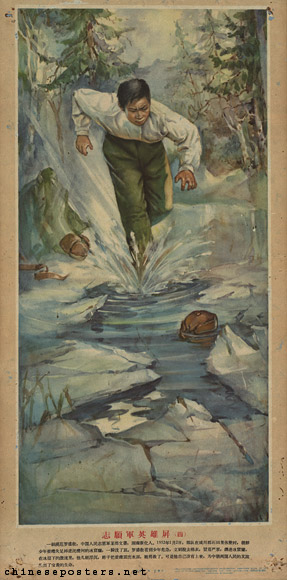 As time passed by, however, the story changed, as can be seen from the fairly recent poster below, where we see Luo actually taking off his padded jacket before jumping into the icy waters.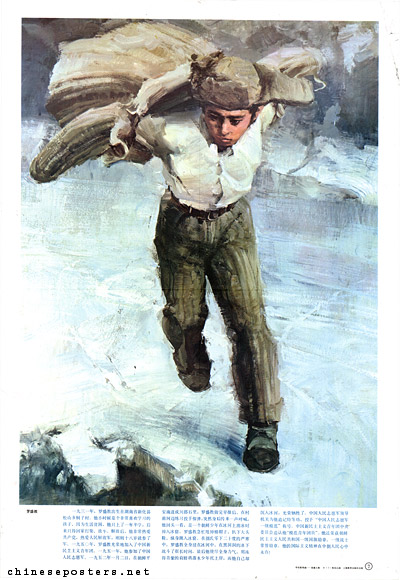 Much was made of Luo's sacrifice. Even in the 1970s, a poster was published, showing a grown-up Cui Ying meeting the much-decorated parents of Luo.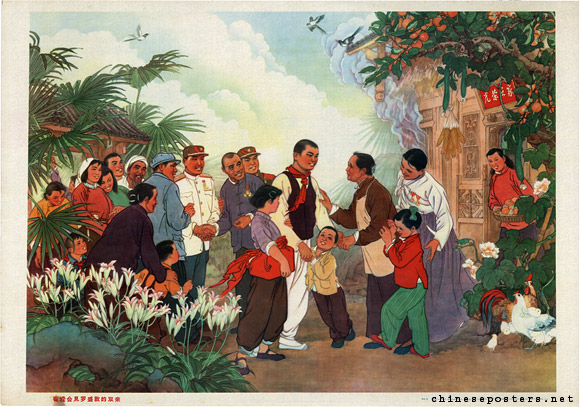 Shao Wu et al. (eds), 共和国群英谱 [Gongheguo qunyingpu - Register of heroes of the Republic] (Beijing: Zhongguo shaonian ertong chubanshe, 2003) [in Chinese]
Xiao Qing and Cui Ying, "Luo Shengjiao", in Qingnian yingxiongde gushi [Stories of youthful heroes] (Beijing: Zhongguo qingnian chubanshe, 1965) [in Chinese]