Guo Xingfu (郭兴福, 1930-1985) was a deputy commander of a People's Liberation Army company in the Nanjing Military Region who developed a teaching procedure for individual drills and small-group tactics. This teaching method was first put into practice in 1962. In late 1963, the General Staff Headquarters were given a demonstration of this method, and they were greatly impressed with it. Ye Jianying recommended in a report to the Military Commission that the procedure be adopted in the whole army. Guo's method differed greatly from the stress on men over weapons that was favored by Lin Biao.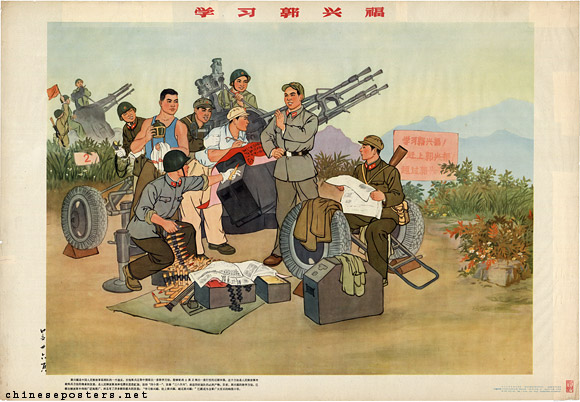 When the Cultural Revolution began in 1966, Guo was persecuted for being a 'black capable person', a non-political technical specialist. He was dismissed from the army, and his method was branded as a bourgeois procedure. He was tortured and imprisoned, and all his family, except his wife and him, were driven to suicide. In 1979, Guo was reinstated and he was assigned to do research on troop training and to teach, even though his health and memory had been badly ruined. His studies on infantry training once more were used as text books by the army.
In 1980, Guo shortly reacquired model status. This was because he returned to work side-by-side with the people who had persecuted him before. After his rehabilitation, Guo did not seek compensation or prosecution of his tormentors, but focussed his hatred on Lin and the Gang of Four.
Kwok-sing Li (editor) & Mary Lok (translator), A Glossary of Political Terms of the People's Republic of China (Hong Kong: The Chinese University Press, 1995)
Andrew J. Nathan, "Sources of Chinese Rights Thinking", in R. Randle Edwards, Louis Henkin, Andrew J. Nathan (eds), Human Rights in Contemporary China (New York: Columbia University Press, 1986), 125-164