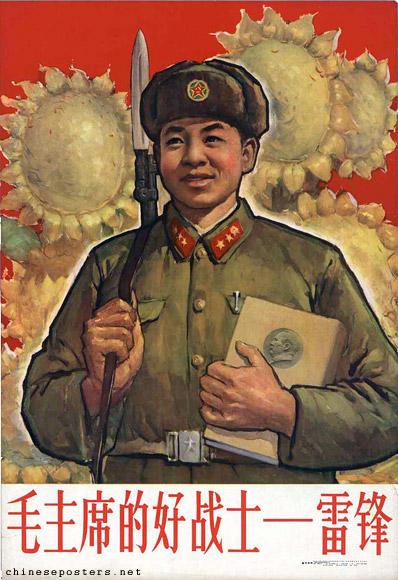 The year 2003 marked the 40th anniversary of the start of the 'Learn from Lei Feng'-campaign. In the run-up to 5 March, the Chinese media devoted considerable attention to the question whether the 'Lei Feng'-spirit was still relevant in this day and age. By and large, they concluded that Lei's attitude of self-sacrifice could be used to promote doing volunteer work.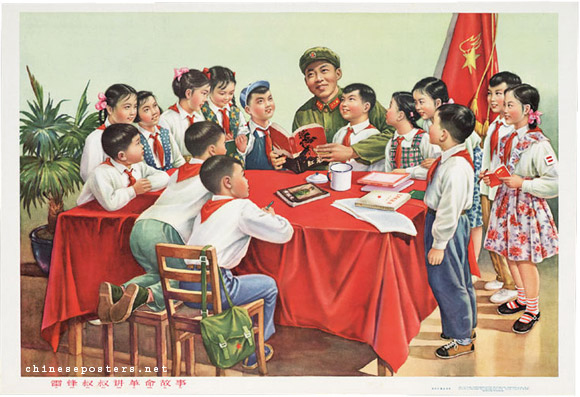 Some doubt exists as to whether Lei Feng (雷锋, 1940-1962) ever really lived. He was born in a family of poor peasants in Wangcheng district, Hunan Province, on 18 December 1940. After the Japanese killed his father, his mother committed suicide as a result of the harassment she received at the hands of the son of her landlord. The Party saved the orphan Lei Feng, fed him and brought him up as a mother would her own child. He joined the People's Liberation Army, became a squad leader and a member of the Party. Diligent study of the works of Chairman Mao taught him how to live a life of extreme frugality, to eschew selfishness and to devote himself body and soul to the revolution and to the people. His greatest desire in life was to be nothing more than "a revolutionary screw that never rusts".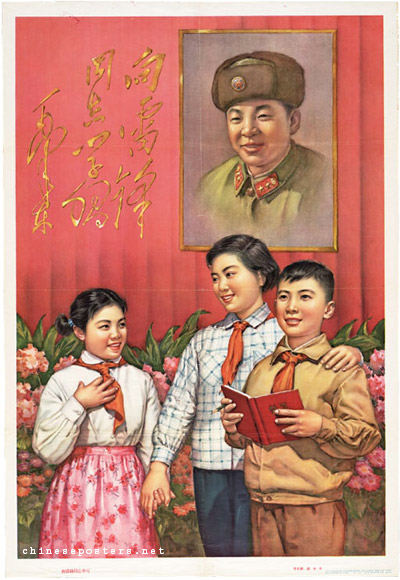 Like the "little screw" he wanted to be, Lei Feng performed many good deeds: he sent his meagre savings to the parents of a fellow soldier who had been hit by a flood; he served tea and food to officers and recruits; he washed his buddies' feet after a long march, and darned their socks; he went all-out to show his devotion to the revolutionary cause. In short, we are led to believe he lived the life of saintly Boy Scout. He did not commit great deeds by which he was remembered, but taught the people how to be happy with what they had, to obey the Party and to let the Central Committee, or better still, Mao himself, do their thinking for them.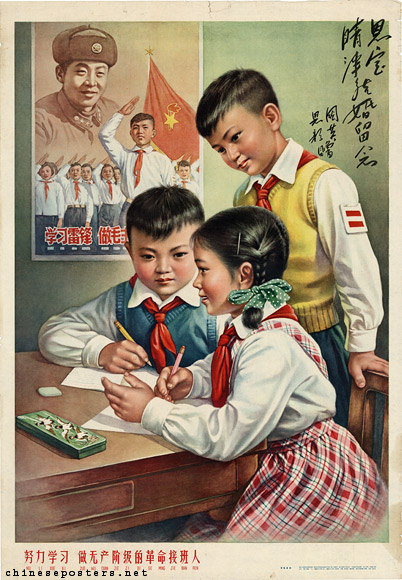 Lei was killed in an accident on 15 August 1962. Many urban myths exist about the cause of his demise: he was said to have been electrocuted while assisting in the raising of a power line in the countryside; he was said to have hit an electricity pylon with his Army truck, etc. However, on 6 March 1997, all these stories were proven to be wrong. That day it was reported that Qiao Anshan, a retiree living in Liaoning province, drove the truck that knocked down the pole that fell on Lei Feng and killed him. Qiao recalled it was a Sunday when the pair was cleaning a lorry at Fushun Army base. The vehicle was driven to a hosepipe. Then Lei asked the driver to back up. "A rear wheel struck a pole from which barbed wire hung but I didn't realise this and hit the accelerator hard, pushing over the pole and killing Lei Feng," Mr. Qiao said. "When I held him on the ground, I saw blood gushing out of his mouth. He was sent to hospital ... I felt a kind of vacuum in my brain. Can you understand this feeling? Later, in the mortuary, I took his hand and I just wanted to follow him. He was my best brother, my best companion, but I was the one who drove that truck."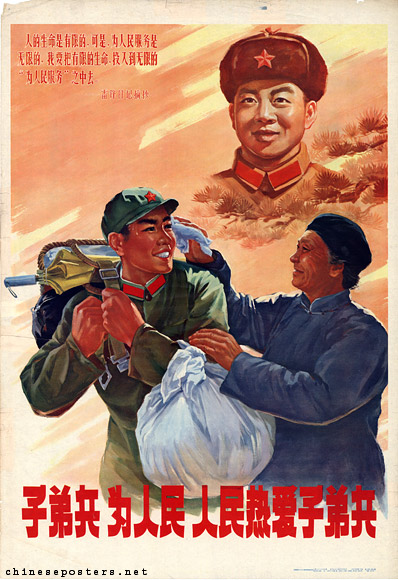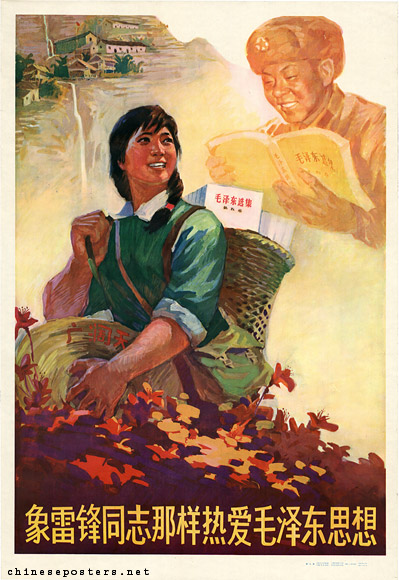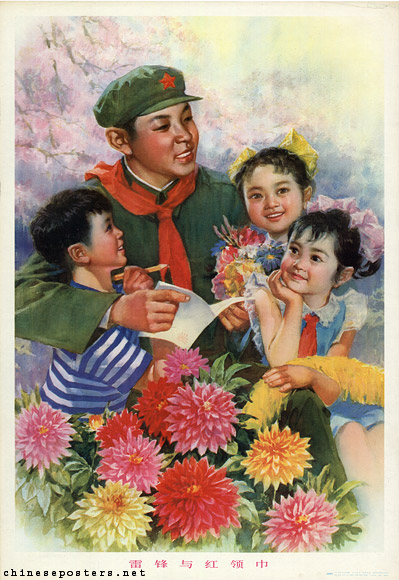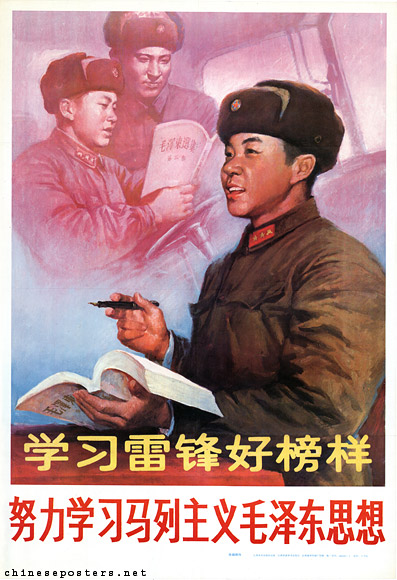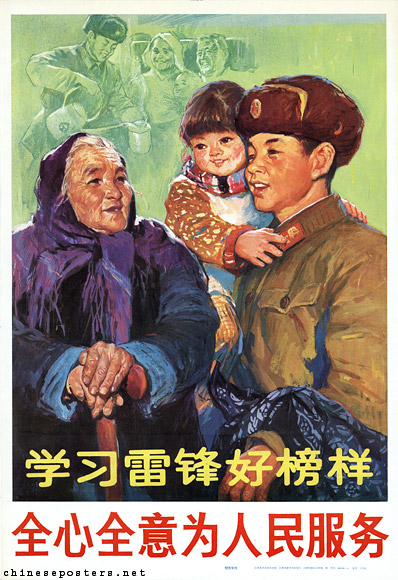 Although Lei could be termed a nobody, he left behind a diary which became an object of national study after 5 March 1963, when Chairman Mao Zedong called on the nation to learn from the 24-year-old martyr by penning the inscription Xiang Lei Feng tongzhi xuexi (向雷锋同志学习, Learn from Comrade Lei Feng). His diary was reprinted for study, photographs of Lei in action all of a sudden turned up, movies were made about his life, stills from these movies were turned into comic strips; posters bearing his image were produced in staggering quantities. It has always been something of a miracle that such an unprepossessing person could have made such an impact, and could have left so many pictures and written materials, even before he died. Recent (2006) scholarship proves that already in September 1960, Lei had been designated as an "Economizing Model Soldier", after which an emulation campaign in the Army was started. For this purpose, most of the materials that later were used in the nation-wide campaign had been prepared.