The Red Flag Canal (红旗渠, Hongqi qu) has always been used as an example of how the people, guided by Mao Zedong Thought, harnessed Nature. Together with Dazhai and Daqing, it has been held up for study and emulation as an illustration of the validity of the story of "The Foolish Old Man Who Removed the Mountains", one of the Three Constantly Read Articles.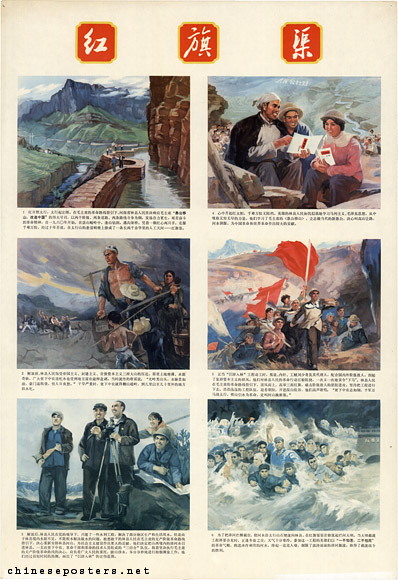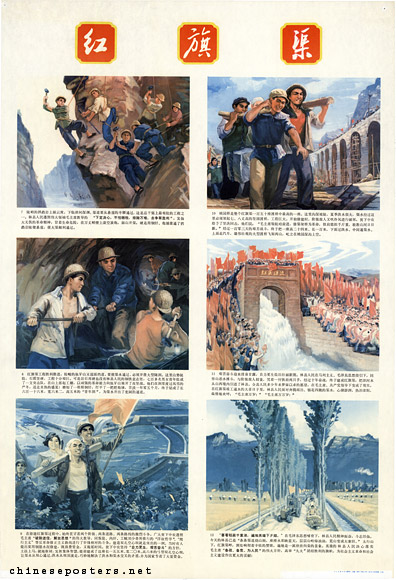 The canal is located in Linxian County, Henan Province, an area bordering Shanxi and Hebei Provinces historically known for little arable land, erosion and a lack of water. After 1949, the first steps were taken to create a guaranteed water supply. During the Great Leap Forward, however, major mass mobilization enabled the completion of the first linking of the area with nearby rivers. The Hero Canal, completed in 1958, did not alleviate the drought that hit Linxian - and many other regions - in 1959. A year later, is was decided to start an even more ambitious project, the Red Flag Canal. In the words of Lin Min, "The entire network consists of a trunk canal, three branch canals and numerous channels and ditches -- altogether 1,500 kilometres of waterways. [...] The [...] builders blasted or cut" through "1,250 hills, excavated 134 tunnels totalling 24 kilometres, and built aqueducts with a total length of 6.5 kilometres. They handled 16,400,000 cubic metres of stone and earth [...]. The Canal links up with existing smaller canals and waterways into a still larger network that can irrigate 600,000 mu (1 mu is .0667 hectares) of farmland, two-thirds of the arable land of Linxian". The work was finished in 1969.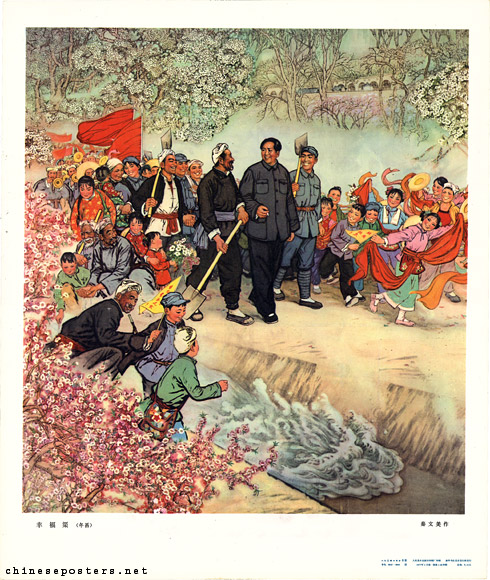 Although the construction of the canal was influenced by the events of the Cultural Revolution - the pernicious influence of Liu Shaoqi and "his clique" are mentioned time and again - there are no indications that Mao ever visited the project, as the poster above suggests. It is unclear whether this Canal of Happiness is the same as the Red Flag Canal.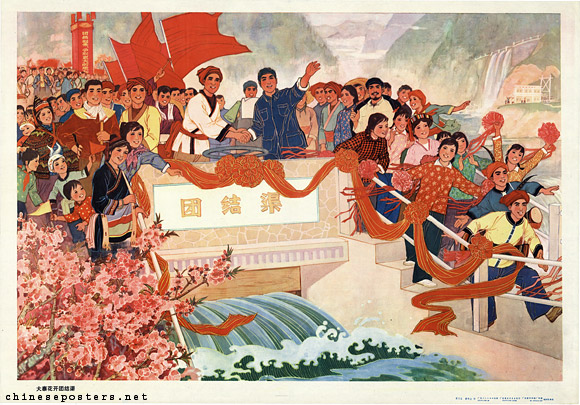 The imagery of opening canals, bringing water where drought existed, has inspired many artists.
Lin Min, Red Flag Canal (Peking: Foreign Languages Press, 1974)
Peter J. Seybolt, Throwing the Emperor from His Horse - Portrait of a Village Leader in China, 1923-1995 (Boulder: Westview Press, 1996)