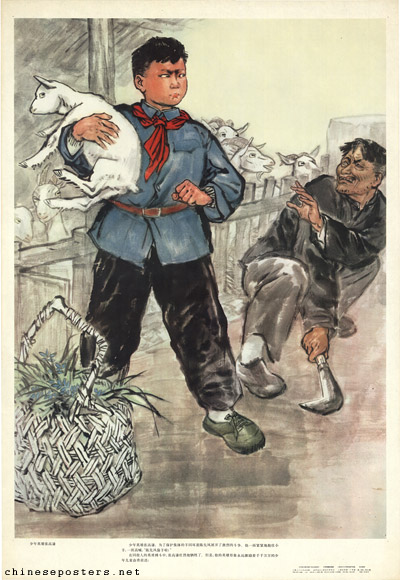 The young hero Zhang Gaoqian, 1974
Zhang Gaoqian (张高谦, 1947-1961) was born in a poor farmer's family in Dahan Village, Shouning County, Fujian Province. In the autumn of 1960, when the production team was otherwise occupied, he offered to keep the sheep while studying for school. Because of his careful breeding, by the fall, the eight sheep under his care had become 14 sheep. The villagers praised him for putting collective property first. In school, he became a squadron leader, and he was admired by his classmates. On the evening of 6 February 1961, he was worried that the sheep pen would be damaged by a strong wind. He went to check and found that someone was stealing the sheep. He shouted: "Someone has stolen the sheep!" Because of the wind, no one heard him shout. The sheep thief flashed a beam of light in his eyes, picked up a scythe and threatened, "Are you going to die or want the sheep?" Zhang was not afraid, fighting with the sheep thief and shouting at the same time, but he fell in a pool of blood because of his youth and lack of physical strength. He gave his life honorably in order to defend collective property. In March 1962, the Fujian Provincial Committee of the Communist Youth League decided to ratify Zhang Gaoqian as an "excellent young pioneer".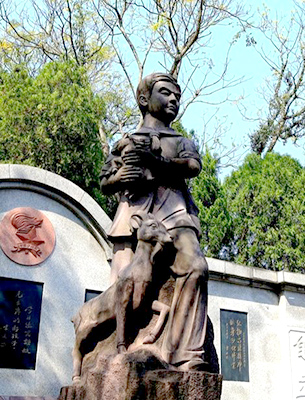 In 1963, the Shouning County Committee of the Communist Youth League built the tomb of Zhang Gaoqian in Dahan Village. In 1974, the tomb was moved to the bank of the Dahan River. From October 1990 to January 1991, the Zhang Gaoqian Cemetery was built on a small hill next to Dahan Bridge. The cemetery covers an area of ​​2,400 square meters (60 meters long and 40 meters wide). The main buildings include the Pioneer Pavilion, Zhang Gaoqian statue (holding a lamb), the tomb, and the inscription wall of the central and provincial leaders, where Song Qingling, Guo Moruo, and other leaders wrote inscriptions or poems, highly appraising Zhang Gaoqian's excellent qualities, and calling on young people to learn from him. In 1996, the Fujian Provincial People's Government included the site in the fourth batch of provincial-level cultural relics protection units.