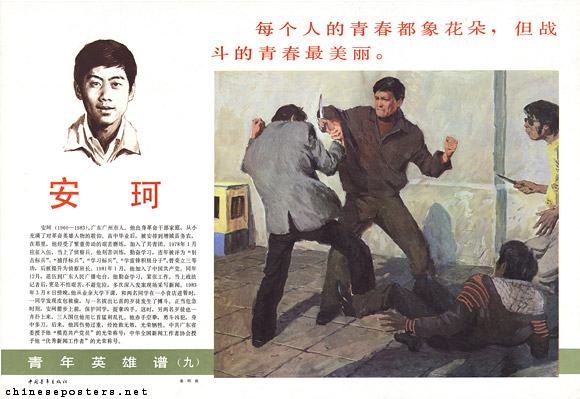 Register of heroes -- An Ke, 1984
An Ke (安珂, 1959-1983) was a native of Guangzhou. He was born in a family of revolutionary cadres. He loved reading works praising heroes since he was a child. When he graduated from high school in September 1976, he gave up the opportunity to stay in the city and went to Tibet to work instead.
In 1978, An enlisted in the army and became a scout, stationed at the front line of the Guangxi border defense. In the spring of 1979, the self-defense counterattack against Vietnam started. Because of his outstanding combat missions, he was commended six times. At the end of 1981, after An was demobilized from the army, he was assigned to work in the "Guangdong News" (广东新闻) editorial team of the News Department of the Guangdong People's Broadcasting Station. In mid-November 1982, the organization decided to transfer him to the reporter team as a political and legal reporter.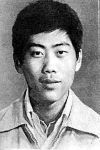 At 18:00 on March 8, 1983, An Ke and his classmate Xiao He went to have a quick meal together at the Huaguang Snack Shop in Changdi. A thief stole his "pleather" manpurse while An Ke was waiting. When An Ke and Xiao He rushed out of the shop, a criminal drew a knife and stabbed Xiao He. At this critical moment, An Ke quickly rushed in front of Xiao He and attacked the knife-wielder with his bare hands. The gangster retreated under An Ke's valiant fists and feet, but three other gangsters surrounded him. An Ke was attacked on all sides, and stabbed in his back and ribs. However, he was not afraid, fought while injured, and was exhausted. Still glaring at the gangster, he leaned against a pillar of the arcade and stubbornly prevented himself from falling. A passing tricycle took him to the Second Affiliated Hospital of the Zhongshan Medical College for emergency treatment. At 18:45, An Ke died due to serious injuries.
Later in 1983, he was declared a revolutionary martyr and was awarded the titles of "Model Communist" (模范共产党员) and "Excellent Journalist" (优秀新闻工作者).