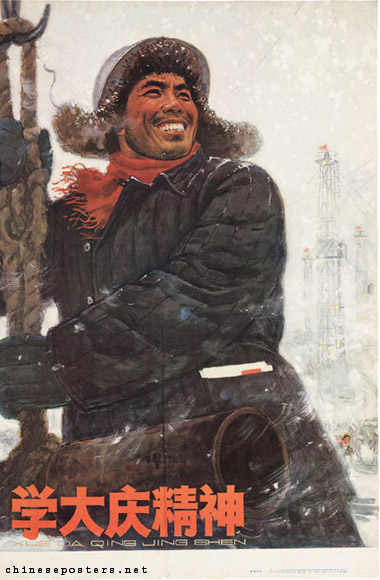 Wang Jinxi (王进喜, 1923-1970) was born in a poor peasant family in Yumen County, Gansu Province. "His life in the old society was a nightmare": he worked as a sheep herd in childhood and later as a coal bearer. He started working in the Yumen Oilfield when he was 15 years old, and worked there for ten years. In 1956, he was admitted to the Chinese Communist Party and in 1959, he attended the National Conference of Heroes of Labor in Peking.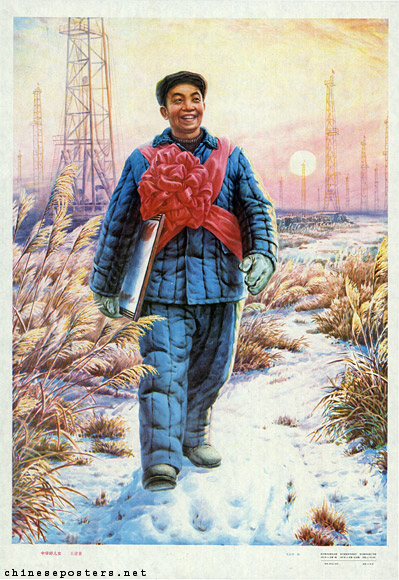 When Mao Zedong and the Party Central Committee decided in February 1960 "to fight 'a massive battle' to open up Daqing" (between Harbin and Qiqihar, Heilongjiang Province) and become self-sufficient in oil, Wang and his famous No. 1205 Drilling Team rushed to the bleak grasslands from Yumen Oilfield. Undeterred by temperatures of between -20 and -30 Centigrades, they jumped into battle directly. After five days of drilling, they struck oil, and Daqing's first production well went into operation "amidst resounding cheers of 'Long Live Chairman Mao'". Within three years, Daqing became China's first-rate big oilfield.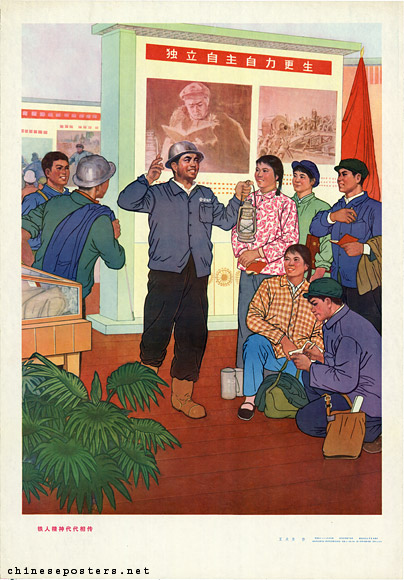 Despite fatigue, injuries and difficulties, Wang kept going throughout. For this the people called him 'Iron Man', and the name 'Iron Man' Wang stuck and spread. In 1960, the nation was called upon to learn from the Iron Man, and in 1967, he was made a national labor model. Veteran designer Ha Qiongwen was one of the artists who immortalized the Iron Man. In 1968, he was elected member of the Ninth Central Committee. Until his death of cancer in 1970, Wang remained in the foreground fighting the elements, class enemies, revisionists and erroneous ideas.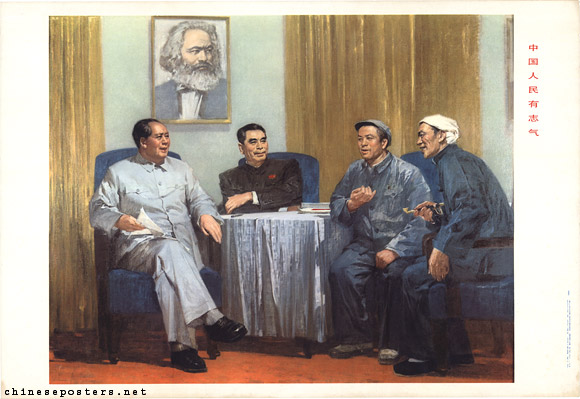 Wang Jinxi's example was used once more in the early 1980s, to entice young people to move to hardship areas to assist in the development of China.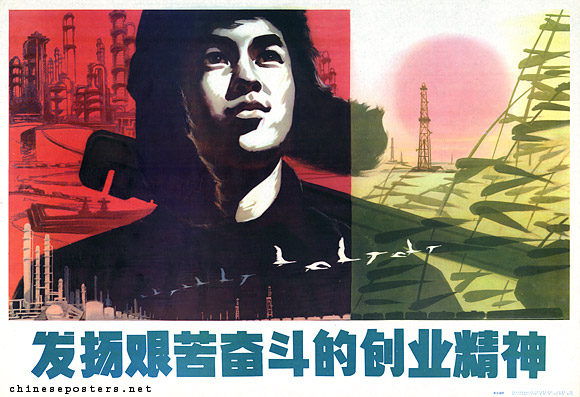 Taching - Red Banner in China's Industrial Front (Peking: Foreign Languages Press 1972)
Jiang Shanhao, Impressions of Taching Oilfield (Peking: Foreign Languages Press 1978)
Shao Wu et al. (eds), 共和国群英谱 [Gongheguo qunyingpu - Register of heroes of the Republic] (Beijing: Zhongguo shaonian ertong chubanshe, 2003)
Xu Yan, 80 wei gongchandang rende gushi [The stories of 80 Communist Party personages] (Beijing: Jiefangjun wenyi chubanshe, 2001) [in Chinese]