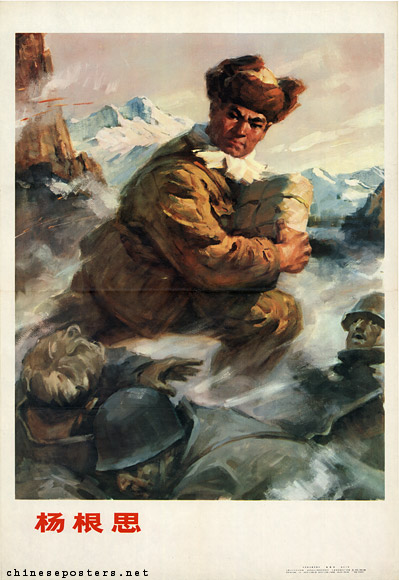 Yang Gensi (杨根思, 1922-1950) was made a Hero Special Class of the Chinese People's Volunteers fighting in the Korean War. Yang, born in Taixing, Jiangsu Province, had joined the Red Army in 1944 and the Party in 1945. Due to his many heroic actions, he participated in the National Conference of Combat Heroes, which took place in September 1950 in Beijing. One month later, he joined the People's Volunteers and became company leader of the 3rd company, 172nd corps, 58th division, 20th army corps.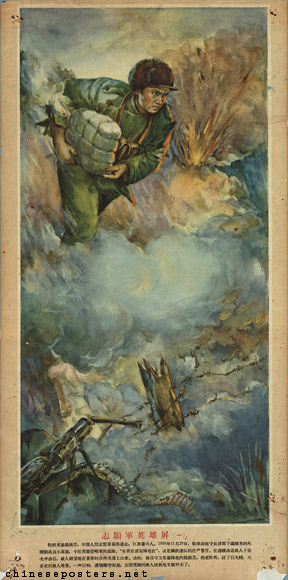 Yang was killed in Korea on 29 November 1950. His unit's advance was blocked by the overwhelming fire power of a machine gun nest manned by American troops. Clutching a satchel charge to his body, he threw himself into the nest. The enemy -- forty in all -- perished in the explosion, and Yang's unit could advance. Yang died.
Yang was posthumously awarded a Special-Class Merit citation with the title of Special-Class Fighter. The 3rd company was known as the "Yang Gensi Company" ever since. The standing committee of the Supreme People's Congress of the Democratic People's Republic of Korea (DPRK) awarded Yang Gensi the title of hero of the DPRK. The DPRK Government built the Monument to Yang Gensi in the place where he sacrificed his life.
"Teji yingxiong Yang Gensi" [Hero Special Class Yang Gensi], in Zhandou yingxiong gushi xuan [Selected stories of combat heroes] (Tianjin: Tianjin renmin chubanshe, 1970), pp. 17-23 [in Chinese]
"Teji yingxiong Yang Gensi" [Hero Special Class Yang Gensi], in Zhandi huanghua fenwai xiang [Yellow flowers of the battlefield are especially fragrant] (Hangzhou: Zhejiang renmin chubanshe, 1971), pp. 1-9 [in Chinese]
Shao Wu et al. (eds), 共和国群英谱 [Gongheguo qunyingpu - Register of heroes of the Republic] (Beijing: Zhongguo shaonian ertong chubanshe, 2003) [in Chinese]
Xu Yan, 80 wei gongchandang rende gushi [The stories of 80 Communist Party personages] (Beijing: Jiefangjun wenyi chubanshe, 2001) [in Chinese]