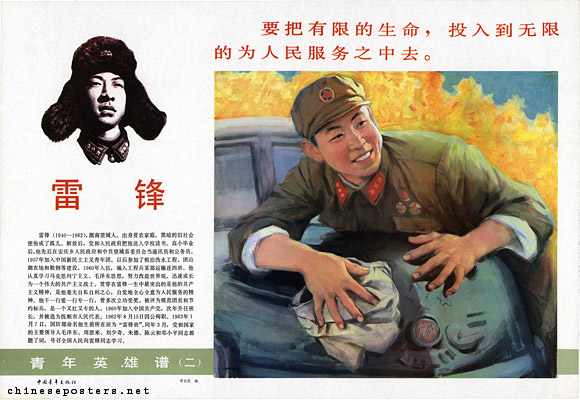 The origins of Lei Feng's famous diary were revealed shortly after the person responsible for his death stepped forward. It was given to him by Wang Peilin, and she became so close to Lei when they worked together at the Tuanshan Lake State farm that he named her his jiejie or elder sister. Their friendship began to blossom in February 1958 when 22-year-old Lei gave Ms Wang, four years his senior, a book about Liu Hulan, another of the Communist Party's revolutionary martyrs. Lei gave her a diary with a photograph of him inside. On the first page he wrote: "Wang Peilin, you are a loyal daughter of the party. I hope your youth blossoms fragrantly like a flower on the motherland. Great persistence makes great ideals. May you become a real soldier in our common work." Lei later went to join the Anshan steelworks, but before he left Ms Wang gave him a satin-covered diary. The couple lost touch after Ms Wang moved to Anhui province but on 6 March 1963, she saw Lei's photograph in newspapers which reported his good deeds and Chairman Mao Zedong's eulogy. She was reportedly moved to tears. Since then, many had sought to find Ms Wang because it was in her diary that Lei confided his inspiring thoughts and selfless acts.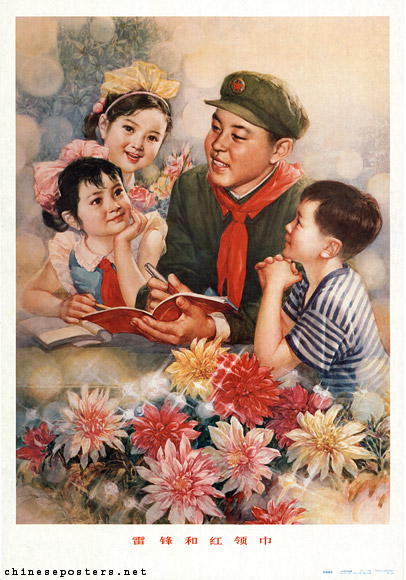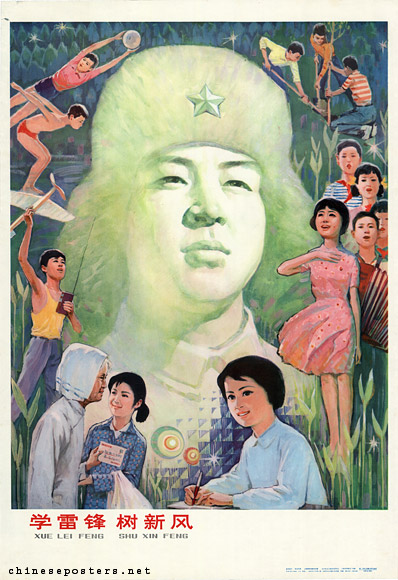 After the Tiananmen Incident of 1989, propaganda posters featuring Lei Feng were re-introduced by the leadership in an attempt to once again educate the people in the image desired by the Party. Obedience and other qualities were stressed that no longer corresponded with the harsh reality of mass unemployment, cut-throat competition, and increasing inequality; indeed, in a society in the throes of realizing "socialism with Chinese characteristics", where assertiveness is increasingly valued, the people could gain very little by following such examples of self-effacing self-sacrifice.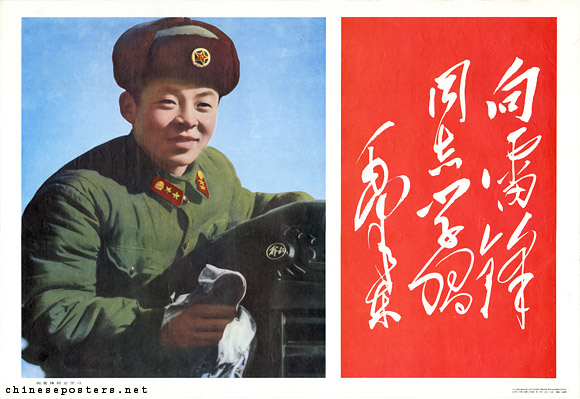 In fact, many Chinese have long considered Lei Feng to be a joke. But his image is still hung in nearly every school and he remains the country's greatest soldier-saint. People of all ages will offhandedly - and often in a somewhat embarrassed manner - admit to having internalized some behavioral aspect of the message presented by him. The propaganda authorities have tried to revive the cult with a "blockbuster" film, The Day I Left Lei Feng, which every member of the Communist Party's Youth League had to see. This movie was based on a book with the same title [Likai Lei Fengde rizi], an example of rapportage literature [baogao wenxue] featuring Qiao Anshan's story.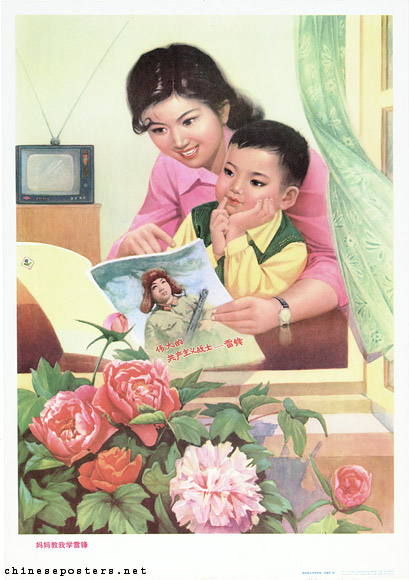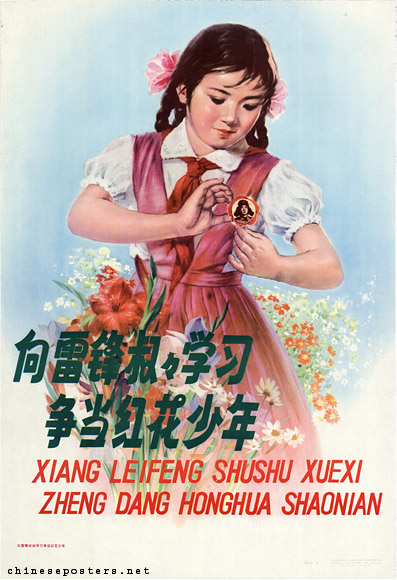 The increasing popular doubts and misgivings about Lei may be the reasons that over the years, the image of Lei himself has undergone a number of official re-stylings while echoes of his obedient persona, his "screw spirit", continue to resound. He has been promoted as a homeowner, as the possessor of a savings account, and in many other modern guises that seem to clash with his original "screw spirit". Most recently, he even was touted as a possible patron saint of the private entrepreneurs. Hailing a laid-off Heilongjiang worker who had opened a shop of his own, the official English language journal China Daily said he possessed Lei's "lofty spirit", and continued that "As times change, the interpretation of the Lei Feng Spirit has also been continually enriched and has now far exceeded the narrow scope of altruism. It can always have new definitions suited to the demands of the times." Something similar happened with Mao Zedong, not exactly an admirer of private enterprises, whose picture was hung behind the shop counters of private entrepreneurs to bring good luck to their business; and gamblers prayed to him hoping that their number would turn up.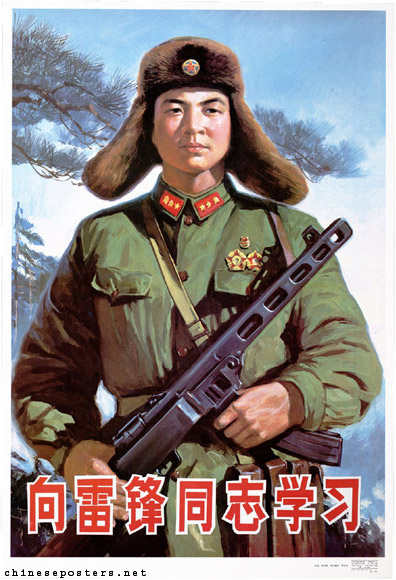 The following example from early 2001 may serve as an illustration of the continuous redefinition of Lei's exemplary status. Falun Gong members undergoing "re-education through labor" were taken to the Lei Feng Memorial Hall

in Liaoning Province, in order to learn from Lei's self-sacrifices. According to the report in the Liberation Army Daily [Jiefangjun ribao], the visitors "spontaneously repeated and copied down inscriptions" from his diary.