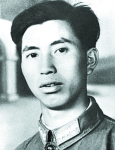 Ouyang Hai (欧阳海, 1940-1963), from Guiyang, Hunan Province, joined the People's Liberation Army in 1958. After entering the Communist Youth League in 1959, he became a Party member in 1960. On 18 November 1963, during training, a horse hauling a gun carriage was scared by an oncoming train and could not get off the track. Ouyang Hai used all his might to pull the horse off the track to avoid a collision, got knocked over and was killed. Because Ouyang's action averted a major accident, he was posthumously recognized as a "Cherish-the-People" model.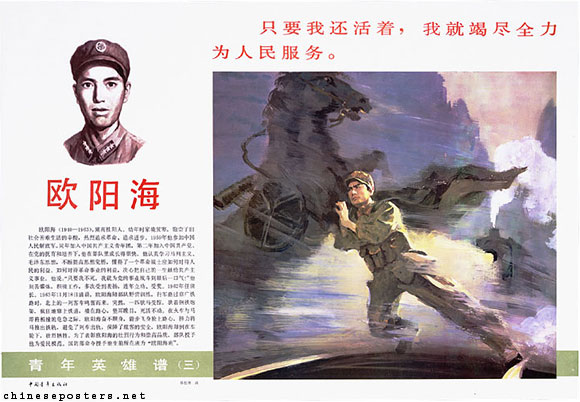 Ouyang's life formed the inspiration for the novel The Song of Ouyang Hai

, by Jin Jingmai. After its publication in December 1965, it received a favorable response from high Party leaders, including Guo Moruo, who wrote an article praising Ouyang as a hero of the socialist age. The novel, however, indicated that Ouyang was inspired by reading books written by Liu Shaoqi, the target of much of Mao Zedong's criticism during the early days of the Cultural Revolution. In order to avoid political problems, Jin was forced to completely rewrite sections of his work in 1967; references to Liu Shaoqi had to be replaced by praise for Mao Zedong, and the end needed to be rewritten. After it was republished, many people despised the book. Once the Gang of Four fell from power, Jin reverted his story to the original form. Despite all these reinterpretations, in the 1980s Ouyang was once more considered a model worth emulating.
The Ouyang Hai Memorial Tower was built in the winter of 1966 and completed in 1967. It is located in Xintang Town, Hengdong County, Hengyang City, on a small hill 1 km south of Hengshan Railway Station and east of the Beijing-Guangzhou Railway. Ouyang Hai died here. The memorial tower was made a provincial cultural relics protection unit in 1972 and 1983. The tower faces east and west, is 8 meters high and covers an area of 1,980 square meters. The base is made of granite stone. The front is engraved with the eight characters of "Ouyang Hai Martyr's Monument" in official script. The top of the tower is a cement statue of a martyr pushing a horse. There are showrooms on both sides of the memorial tower to display the life stories of the martyrs.
Kwok-sing Li (editor) & Mary Lok (translator), A Glossary of Political Terms of the People's Republic of China (Hong Kong: The Chinese University Press, 1995)
Shao Wu et al. (eds), 共和国群英谱 [Gongheguo qunyingpu - Register of heroes of the Republic] (Beijing: Zhongguo shaonian ertong chubanshe, 2003)
Xian Wang, "The Construction of the Image/Myth of a Martyr in the Cultural Revolution: An Interpretation/Demythicization of The Song of Ouyang Hai", Comparative Literature Studies 52:1 (2015), 145-159