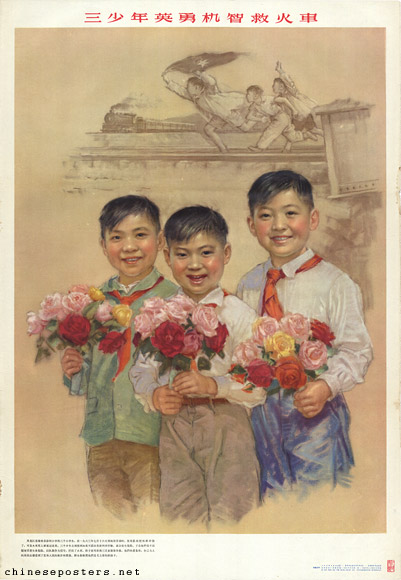 On 12 July 1963, it rained heavily in the Hailin area of Heilongjiang Province and flash floods broke out. Bridge No. 31 at 36 kilometers of the Forest Railway of Chaihe Industry Bureau was destroyed by floods. At this time, the Young Pioneers Wen Qinghai (温庆海), Jia Shuwen (贾树文), and Zou Xiangting (邹祥廷) of the Xisha Elementary School of Erdaohezi Commune, who were looking after the crops in the school's fields near Bridge 31, suddenly discovered that Bridge 31 was washed away by the flood. The rails were suspended in the air on a section of nearly 20 meters, and the flow below was turbulent.
At this moment, the sound of a train came from a distance. They saw a steam engine train pulling more than ten carriages, approaching Bridge 31 at full speed. An accident was about to happen. Wen Qinghai, 15, said: "We must cross the bridge! Use our red scarves as a signal to stop the train". 11-year-old Jia Shuwen and Zou Xiangting agreed. At this time, the floods under the "suspended bridge" were dizzying. They ignored these and climbed over the "suspended bridge" one by one. By now, the train was only 500 meters away from them. They took off their red scarves and ran towards the train waving. The train was still speeding forward and did not stop. At this critical juncture, the three were not afraid of danger, and stood hand in hand in the middle of the railway, waving their red scarves and rushing towards the train...
The heavy rain was so overwhelming that the train engineer Wang Kai finally saw them and immediately hit the emergency brake. The train stopped less than 10 meters from the boys. Wang Kai jumped off the locomotive. When he saw the bridge damaged by the flood, he took them in his arms and said gratefully: "You saved the train and saved more than 600 passengers!"
The news spread to Beijing and the General Office of the CCP Central Committee and the Central Committee of the Communist Youth League awarded them the honorary title of "Three Heroes". The People's Daily, China Youth Daily, Guangming Daily and various local newspapers reported their deeds. The Heilongjiang Provincial Committee of the Communist Youth League and the Provincial Department of Culture and Education held a commendation and reward meeting in Harbin, calling on the students in elementary and middle schools across the province to learn from the exemplary deeds of the "Three Young Braves" (英雄三少年).